back to blog
Worldz is all about friends, that's why we want take care of our best ones
Worldz has been featured between the scaleup of the 2022 Startup Grind Global Conference in San Francisco. On this occasion we had the opportunity to network and the pleasure of meeting many new people to whom we wanted to leave a good memory of us.
However, the usual corporate gadgets did not seem enough to us and for this reason we chose to give space to a different idea. For each guest we met at our desk (about 95 in one day) we donated 3 euros to the National League for the Defense of the Dog. Our goal is to be able to support this association in assisting the animals victims of the conflict in Ukraine, sending support to the local realities involved in the field.
In total we therefore donated 285 euros on this occasion and we hope to be able to donate again soon to support this cause.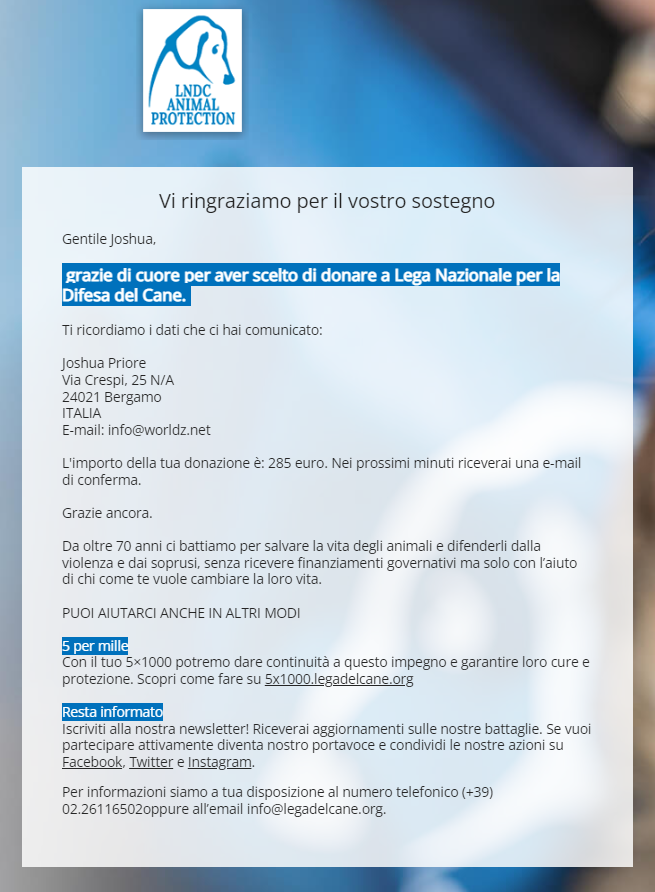 Translation
Dear Joshua,
thank you very much for your donation. We will transform your generosity into practical help for the animals victims of the war in Ukraine that are in urgent need of veterinary care, life-saving medicines and first aid medicines. For over 70 years, we at LNDC Animal Protection have always been at the forefront, 24/7, in emergencies and to help, feed, treat and assist forgotten animals, deprived of care, of food. All this continues to be possible thanks to you, who allow us to make a difference, to save so many animals that could not survive without our help. Here you will find the details of your donation, donation amount: € 285.
Thank you so much for your support, from me and from the whole association.
A warm hug,
Piera Rosati, President of the National League for the Defense of the Dog
If you want to know more, please be in touch with us.